03 Apr 2017 // A review by James Castady-Kristament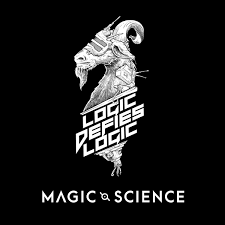 Logic Defies Logic's Magic And Science is the 6 track album I've been listening to in my car for the last couple of weeks. From the cover to the inlay to the pull out insert to the music itself, the Album screams mastery, perfectionism and quality and has definitely made a fan out of me.
The album is really eclectic and ranges from heavy metal to hard rock with elements of funk, classic rock and many other flavours. For example in the case of their song Gate crasher The songs starts out with a saxophone and 80's inspired drum rolls and synths and some how morphs into modern rock ending with a tremendous spine chilling scream from singer extraordinaire Tarquin Keys.
Bang out the Beans is another example of their eclectic style. The song has an extremely funky bass line and feel but somehow maintains it's grimy rock edge. It amazes me how they combine these elements in an entirely cohesive manner. A testament to their skill as songwriters.
Their song Hollywood, which seems to be about a girl trapped in the sex industry, has a sleazy musical feel to the verse, which kind of made me uncomfortable at the beginning, but then they just have this knack of bringing in a different musical colour or element to balance everything out. Kind of the same feelings you would associate with a painting that made you feel kind of squeamish, but held you there trapped in its brilliance. I really like one rhythmic part in Hollywood that accompanies the lyrics "There was a time that she didn't care" Its just so fricken tasty. It blows my mind every time it happens in the song.
The song Man (Un) made follows the same eclectic approach. Starting out soft and jazzy and then turning into brutal hard hitting heaviness before slipping into an amazingly fluid chorus.
And of course their song Fire In The Hole which paints the picture of a jaded musician getting his drink on. Set to a fast paced rhythm and kick ass riffs with high reaching vocal melodies really encapsulates seedy night life.
I can't leave the review without mentioning Demolitia. The rip roaring opening track that is so heavy you risk whiplash from the involuntary head banging you will be doing. Imagine Pantera but slightly heavier.
Logic Defies Logic definitely makes musicians music. It's technical with oodles of instrumental virtuosity but still has the hooks and well crafted songwriting to hold any rock fan.